Starting April 1st and until April 30th Bingo Billy will be running beloved APRIL SPRING CLEAN MY BUDGET contest.
With daily activities, BIG bonuses, and plenty of ways to win entries, this contest includes 3 exclusive events:
$2,500 Rebound Monthly RaffleDaily Top Housekeeper of the day
Weekend Raffles: Friday, Saturday, and Sunday to win Furniture/Appliances in the Facebook Live
They will give away incredible cash prizes and the opportunity for players to renew their homes with beautiful and brand-new appliances.
Spring Inspired Room – Activate th Free Honey The Hive
Play 2 HOUR OF FREE GAMES from 6pm to 8pm ET to TODAY'S DEPOSITING MEMBERS ONLY featuring:
GREAT CHANCES OF WINNING: Only today's depositors can enter!
Get 10 FREE Cards on Every Game!
Wins from This Room Are Considered REAL WINS as if on Any Pay-to-Play Room!
All Games are $10.00, $15.00 and $20.00 Free Jackpots and We've added 3-Part $10.00 – $15.00 – $20.00 Games into the Session!
$100.00 Fixed Flower Game at the End of 6pm and 7pm ET!
New Season! The Stack the Flower Room
Ensure you have a deposit (Min $30) on file during April to join this room and start collecting patterns to form a Flower-Looking design.
Games in this room will play every Wednesday of April from 8pm to 12am ET and from 6pm to 12am ET during the last session of the month on Wednesday, April 27th.
The Member that Stack the greatest number of Flowers by 12am ET wins $200.00 CASH!
2nd Place: $100.00 CASH
3rd Place: $50.00 CASH
4th to 7th Place: $25.00 CASH
Open a Help Desk Ticket using the option: Stack a Flower Request with the Game IDs used to Stack the Flowers. Deadline to submit your patterns is 12am ET.
Game IDs can only be used 1 time. April depositors (Min $30) no deposit during Stack a Flower Day win 25% of the advertised prize, as bonus. Plus, $250.00 WILD GAME at the End of 8pm, 9pm, 10pm and 11pm ET:
End of 8pm ET: $250.00 Wild Coverall Game
End of 9pm ET: $250.00 Wild Coverall Game
End of 10pm ET: $250.00 Wild Coverall Game
End of 11pm ET: $250.00 Wild Coverall Game
ACTIVATE THE SPRING-CLEANING ROOM:
Deposit today (Minimum $30) and ACTIVATE this room to play from 8pm to 12am ET.
We'll help you relax after your daily spring-cleaning by offering you the best game settings and jackpots!
SPELL "S-P-R-I-N-G C-L-E-A-N" AND WIN!
Compete to complete the challenge by bingo on S, P, R, I, N, G, C, L, E, A, N and get your prize:
1st member that spells SPRING CLEAN wins: $200.00 CASH
2nd member: $100.00 CASH
3rd member: $50.00 CASH
4th member: $30.00 CASH
5th member: $20.00 CASH
6th to 10th member: $15.00 CASH
Once you complete the challenge you can start over and keep claiming through April 30th!
REPORT YOUR LETTERS:
Open a ticket using the option "Challenge: Spell Spring Clean Report" and report your win using this format: username + Letter You Bingo (S, P, R etc.) + Game ID.
REPORT A REPEAT LETTER TO WIN $5.00:
Bingo on a bingo ball that is already recorded pays $5.00 bonus, so report it using the same ticket and indicate: duplicate letter + Letter + Game ID. If you don't request this before the room closes, you lose the right to claim it. 1 Bonus per duplicate ball.
LEADERBOARD: A leaderboard will be available inside your account under the Happy Face Menu. Scroll down to find CHALLENGE:
CasinoCastle – $200,000 Easter Dragon Quest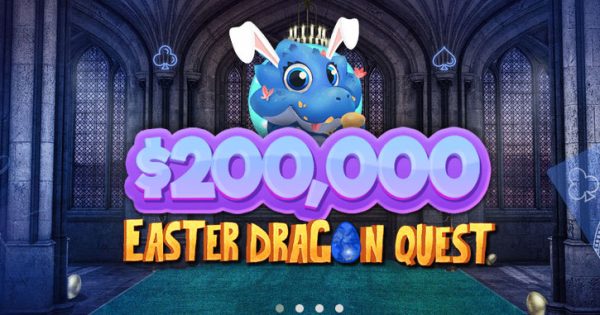 As the flowers bloom, so do your revenues at Casino Castle!
In April 2022 they'll offer up to $200,000 in Money Giveaways, with daily FREE rewards, weekend tournaments paying CASH prizes to all winners, NEW games, and huge Bonuses.
HOT Deals:
Easter Game from April 1st – 17th: Easter Baskets with FREE bonuses every day!
Daily FREE Spins from April 18th – 30th to all players.
$3,000 Weekend Tournaments on popular and newest Slots.
Hidden Eggs: Every Friday a Royal Code with a FREE Bonus to ALL players!
Cash Raffles, HUGE Bonuses, and a weekly quest to see how each player's Dragon grows!