Cyber Bingo biggest monthly bingo event is about to drop! That's right, it's time for our $13,000 Big Bingo Event. This May, this exciting monthly tournament will kick off on Saturday, May 29 EDT. Head on down to the Tourney Bingo room to make sure you can join in the fun.
This event will kick off at 7:00PM EDT and keep going until 10:00PM EDT. All games will take place at the top of the hour with three warm-up games kicking off at 7:00PM EDT, 8:00PM EDT, and 9:00PM EDT. The main event will be at 10:00PM EDT. Make sure you're ready!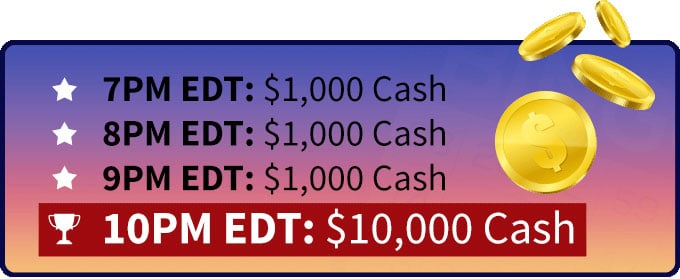 The three warm-up bingo games will take place as top-of-the-hour games and will all be $13,000 Guaranteed games. Cards for these games will be available for $2.00 per card. In addition to this, Cyber Bingo is  running a promo on the warm-up game cards with a Buy 3, Get 2 Free offer. Simply select 5 cards and only pay for 3!
The main event will kick off at 10:00PM EDT. Like the other games, this is a guaranteed top-of-the-hour game too, but here the prize is a whopping $10,000. Cards for this are priced at $5.00 each, so make sure you grab yours today. There's no promo for these cards though.
With so many guaranteed cash prizes, this is our biggest event, and you don't want to miss this! Make sure you're signed up with Cyber Bingo that you can enjoy the $13,000 Big Bingo Event in full. There's still time to join us if you aren't already a member!
Super Sundays – Complete the tasks to win $500 cash!
Get ready to score yourself $500 cash every Sunday in May when you complete our exciting Super Sunday slot challenge. That's right, spin the reels every week between 12:01AM EDT on Sunday and 11:59PM EDT on Sunday on our selected Mobilots slots and when you complete all four tasks, we'll credit your account with a fabulous $500 in cash!
Task 1 – Ride the magic Unicorn!
Task 2 – Join in the slot party!
Task 3 – Dazzling prizes await!
Task 4 – Sweet and tasty slot fun!
Will you complete our Super Sunday Slot Challenge?
This challenge can be completed once each week and rewards you with $500 cash on top of any winnings you may have won whilst playing. With four chances to complete the Super Sunday slot challenge, that's a whopping $2,000 to be won!
Check your mission progress at any time by opening any of the games above and selecting the information tab. From there you will be able to see your completed tasks and those tasks that you still need to complete in order to receive your $500 reward.