As Spring comes around, the flowers begin to bloom and blossom and so do Cyber Bingo great cash prizes! That's right, it's time for a $13,000 Big Bingo Event, the biggest bingo event of the month. This month it's taking place on Saturday, April 24 EDT. Remember the date so you don't miss all the fun!
To join in this epic event, you will need to be in the Tourney Bingo Room from 7:00PM EDT. The event will begin with three warm-up games held as the Top of the Hour games. These will take place at 7:00PM EDT, 8:00PM EDT and 9:00PM EDT and each will be $1,000 Guaranteed games with cards costing just $2.00 each.
The big game won't take place until 10:00PM EDT, which is when we play our biggest bingo game for the month. This is our $10,000 Guaranteed game and your chance to join our growing list of big winners. Cards for this game are priced at $5.00 each,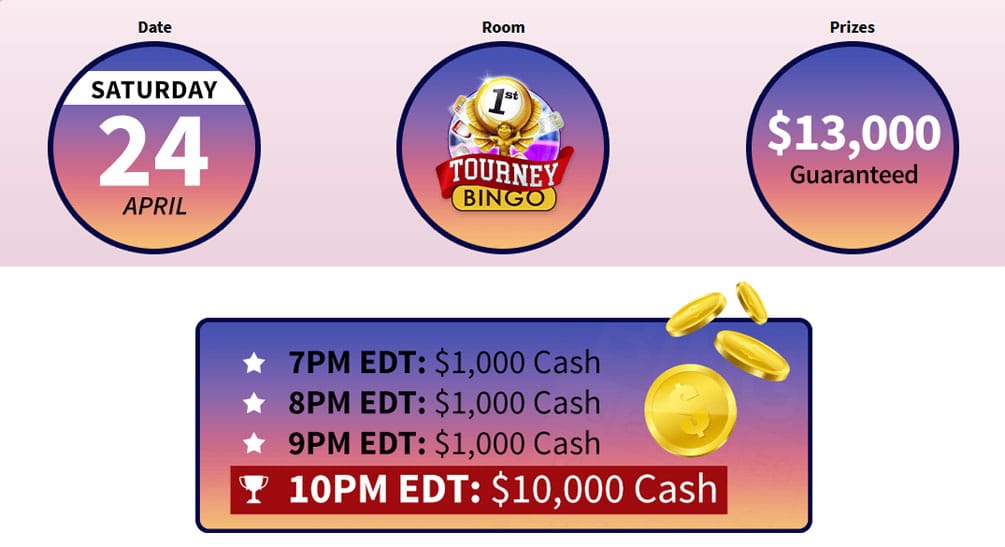 The warmup game cards have a free card offer too where you can grab 3 cards and get 2 for free. Simply select 5 cards and you'll only be charged for the cost of 3. Our main game does not have any such promotion attached. We're also capping the number of cards you can buy for this event at 120.
To join in this Springtime fun, you will need to have an account with us as that's how you can buy your free bingo cards. If you don't have an account just yet, don't worry as sign up is very quick and easy and once completed, you can get on with buying your bingo cards to be our next big winner.
Walk like a Pharaoh in our Egyptian Slot Tourney!
Spring is here and so are some extra exciting chances to win! Throughout April, from Monday to Thursday each week, we're going to run our Egyptian Slot Tourney. Starting at 12:01AM EDT on Monday and ending at 11:59PM EDT on Thursday, this is an exciting event that should not be missed this month!
To participate in this tournament, you must select to "Opt in" using the button below. If you do not opt in for this tournament, none of the bingo games played will count towards winning the Tournament and you will not be eligible to win any of the prizes. OPT in now for your chance to win the top prize of $1,000.00!
As the name suggests, this tourney will be all about playing some Egyptian-themed games and coming top of the player pool while you do so. If you need more incentive, then there's a weekly tourney prize pool of $2,000 up for grabs, which will be split between the top 20 players.
| Ranking | Prizes | Balance |
| --- | --- | --- |
| 1st Place | $1,000.00 | Cash |
| 2nd Place | $500.00 | Universal Bonus |
| 3rd Place | $250.00 | Universal Bonus |
| 4th Place | $75.00 | Universal Bonus |
| 5th Place | $50.00 | Universal Bonus |
| 6th – 10th | $15.00 | Universal Bonus |
| 11th – 20th | $5.00 | Universal Bonus |
If you want to come top, then all you need to do is get spinning. The winner of the tourney will be determined by the best-equalized win over five rounds. So, you will need to get playing if you want to grab that top spot and the big prize of $1,000 cash.
If you want to join in, just play the eligible games during the tournament running days. Taking place every week in April, there's plenty of chances for you to play and see if you can grab that top place. There's also still time for newcomers to join in the fun too!