At the end of the month, it's time for our biggest monthly bingo event. That's right, it's our $13,000 Big Bingo Event, and this time it will be taking place on Saturday, February 27 EST. If you want to join in the fun, head on over to the Tourney Bingo Room.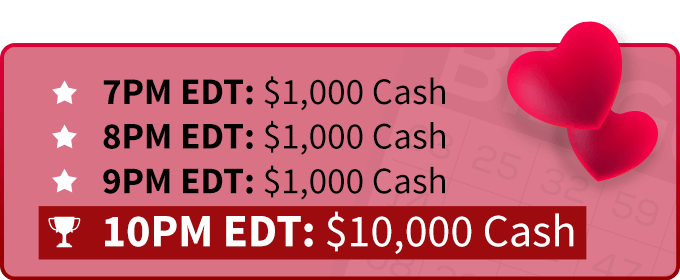 The event is a big one and will kick off at 7:00PM EST. There will be three warmup games taking place at 7:00PM EST, 8:00PM EST, and 9:00PM EST. Each of these will be a $1,000 guaranteed game as the top of the hour game. Cards will be $2.00 each in order to join.
Make sure you're staying awake though, for the biggest game will take place at 10:00PM EST. This is our whopping $10,000 guaranteed game and will have cards for sale at $5.00 each. There's also a 120 cards cap on the number of cards you can get for this event.
We're also running a card promotion on the $1,000 warm-up games. If you want to buy more cards, there's a buy 1 get 1 free on these three starting events, so make the most of this offer to grab your cards. However, this year there's no promo for the main game.
In order to join this event, you must have an account with us, but there's still time to sign up if you don't have one! Head on over to the signup page and your account will be ready in seconds so that you can enjoy the $13,000 Big Bingo Event!
Win big in our Fun Day Bingo!
In this month of love, we've got a lot of fun coming your way. On Sunday, February 21 EST it's our Fun Day Bingo event that will take place in the Valentine's Bingo room. This exciting event is a 2-hour stint of free bingo games and will kick off at 7:00PM EST, so be ready!
This exciting cycle will consist of a number of different bingo games to keep you entertained. The first game is the $3,000.00 coverall Min $300.00 game that will play as the top of the hour and mid hour special. Cards for this event are all $1.50 so grab them now!
We're also running some supreme bingo games. These games have a prize pot that will start at $30.00 and slowly increase as the numbers are called. If the game is not won by the time the prize reaches $300.00, the prize pot will remain at this value for the remainder of the bingo game. Similar to the other events in this cycle, the cards for these supreme games will be $1.50, and there's a buy 6 get 3 free special.
Joining in this cycle is very easy and all you need to do is be a member of our site. For our current members, just grab your cards now. If you've yet to sign up, there's time to do it, so join us now and get ready to have some bingo fun.