As the cold weather draws in, what better way to socialize with your friends than by heading down to our bingo rooms.
This November, Bingo Fest has got our massive $13,000 Big Bingo Event on the go too with some fantastic prizes up for grabs.
Just head to the Tourney Room to get started.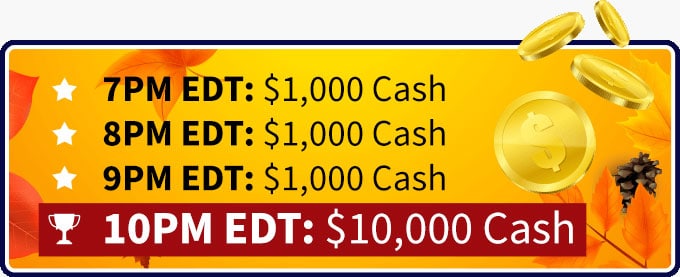 The event kicks of on Saturday, November 27 EST so don't miss out. This event will also have a Fall theme, which will run throughout the tournament as you get playing.
There are a number of different games on offer too. These start with warm-up bingo games of $1,000 Guaranteed Bingo beginning at 7:00PM EDT.
There are three warm-up games, and they will be held at the Top of the Hour. In order to join, grab your cards for just $2.00 each.
Bingo Fest is also running a nice promo on these warm-up events of Buy 3, Get 2 free right now.
The main event is at 10:00PM EDT and this is where we're really kicking things off with our Guaranteed $10,000 Bingo. In this game, cards will be priced at $5 each.
However, there is no promo for these cards, but you can buy them in advance to get ready.
Furthermore, for this event, we do have a cap on cards — just 120 per player across all four games. But, don't let this put a dampener on things.
There's a lot of fun to be had all around. If you're not signed up on our site, there's still time! Join now, grab your cards today!
Speedie Bingo Fun
Speed up the bingo fun between 4:00AM EDT and 6:00AM EDT and again between 4:00PM EDT and 6:00PM EDT every day of the week in the seasonal bingo room with Bingo Event $10.00 Starting Speed bingo games.
These fun filled speedie bingo games have a card cost of just  $0.35  per card and a starting pot of $10.00 that grows with player wagers, the more players that join in the speedie bingo fun, the bigger the cash prize!
Add some coverall madness to your speedie free bingo fun with our top of the hour and mid hour $5,000.00 Coverall minimum $25.00 games.
These exciting coverall games offer fantastic cash prizes for only  $0.35 per card.
Free Cards
Get even more chances to win playing our quick fire speedie bingo games with an unmissable Buy 6 Get 3 Free offer on all cards.
All you have to do is select any 9 Bingo cards, click buy, and you'll only be charged for 6 Bingo cards. That's free chances to win playing our speed bingo games!