Kickstart the Summer by joining our community of loyal subjects in our Annual Tournament of Knights only found at Casino Castle.
Sunny Spin Mondays
Summer gets off to a great start with a super offer and an exciting mission every Monday this month.
Players will have 24H to achieve the mission above. The cash prize will be credited to your balance automatically.
$1,000 Fishing Derby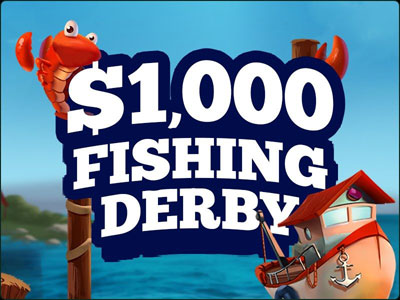 Every Tuesday in June is time to get out the tackle box and some melted butter to win some easy money!
Logan the Lobster is springing up from the sea with huge WILDS Wins, Prize Multipliers and Free Spins! Today is the perfect day to go on a fishing trip for big jackpots.
Mission of the day: Open the game Lobsterama, win a prize of $25 or more and get $10 CASH!
The first deposit of $20 or more you make this Tuesday, will be credited with a 100% Bonus PLUS 5 FREE Spins on the hot game: ALOHA WILD. This offer is on top all regular offers we have in place, and it is valid on your first deposit, so make it a good one!
Coffee and sweet treats!
Go back in time to Dolly's Dinner where neon lights, music, food, classic cars and 50's décor were all the rage.
The main goal of the game is to achieve the expanding and re-spinning WILDS on reels 2, 3 and 4. Enjoy going back in time with this 10 Bet line, 250X Win Game and complete Thursday's mission for a $50 CASH prize.
Mission of the day: Go play Dolly's Dinner, achieve $150 accumulated wins and get a $50 CASH prize. Players will have 24H to achieve the mission above. The cash prize will be credited to your balance automatically.
$5,000 Knights Quest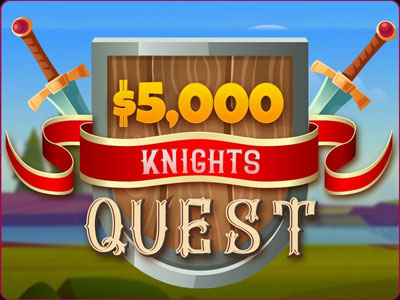 Party hard every Friday in the Kingdom and take home a $1,000 CASH prize just by completing 2 simple quests.
Quest 1: Make a deposit of $25 or more today. We will reward you with 10 FREE Spins on the hot game LEGENDARY OUTLAWS. This gift is valid on the first deposit of the day, and it is on top of all other bonuses and deposit deals we have in place.
Quest 2: Visit our NEW Dungeon Room, choose 3 of your favorite games there and spin at least 10 times on each of them.
By the end of the day our generous King will randomly choose the winner of a $1,000 cash prize from all players that completed the 2 quests above.
Winners will receive an email and you can also check this section every Monday to check if you won. Good luck!
$4,000 Dragons vs Villagers Tourney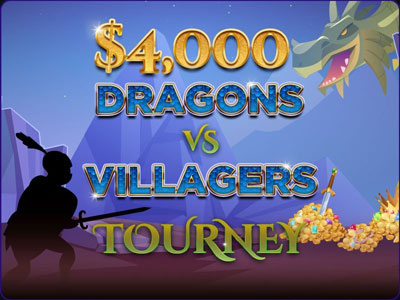 Villagers are on the lookout for evil Dragons that room the lands at night. Help them defend their town, the rewards are worth it!
Look out for the slot Dragons Revenge and win as much as you can! The SUM of the highest (10) spins you score during the event will move you up the rank to the prize board below.
Good news! We know how much you love the hot games below, so the wins achieved on any of them will also get you points into the ranking. Choose your favorite and start winning today!
Saturday Cash Prizes:
1st place:
$350 CASH
2nd place:
$200 CASH
3rd place:
$150 CASH
4th place:
$100 CASH
5th place:
$50 CASH
6th to 10th place:
$30 CASH
$2,000 Fathers Celebration Party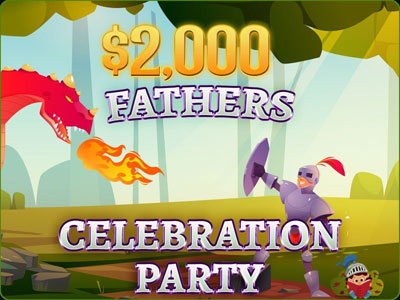 The King has spoken! Because men deserve more than just one special day a year, we'll be celebrating Fathers every Sunday in June.
Go on an adventure quest with the most colorful male characters in the Kingdom.
Complete (6) tasks and win a $500 CASH prize every Sunday. That's $2,000 in CASH prizes you could easily win if you achieve all missions every Sunday this month!
Mission 1: Play 15 games on Neon Cowboy and win $10 CASH.
Mission 2: Win a prize of $25 or more on Caesar and win $15 CASH.
Mission 3: Achieve $100 accumulated wins on Vlad Dracula and win $25 CASH.
Mission 4: Achieve $200 accumulated bets on Loki & Thor and win $100 CASH.
Mission 5: Lose 8 times in a row on Wild Wonka and win $150 CASH.
Mission 6: Achieve 7 consecutive wins on Detective 221b and win $200 CASH.
Players will have 24H to achieve the 6 missions above. Every time you complete a mission, the cash prize will be credited to your balance automatically.